Self-Powered Counter
HC3xxx, HC3xxx-L
Model Reference

Note: the voltage in put code for HC3J601V-L, HC3J801V
Feature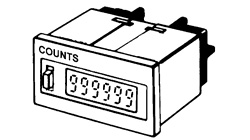 HC3J601-L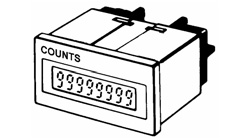 HC3J801
DIN-sized 48x24mm, 50x60mm expansible.
Life time of the Li-battery: ≥10 years.
6 or 8 digital, large, high-visibility LCD displays.
Inputs connected nod signal or electricity signal.
Counting is accuracy and reliable.
The maximum counting speed: 200 counts/sec.
No mechanism abrasion, long life time
Self-power totalizing counter can replace electromagnetism counter.
Technical Data
Voltage
Drivend by built-in battery
Input signal
Relay or switch contac
Transistor input
Voltage input signal
L livel: 0 ~ 2V
H livel: DC4 ~ 30V (HC3J602VH/ HC3J802V)
Non-voltage input signal
Short-circuit impedance: 10KΩ max.
Open impedance: 500KΩ max.
Short-circuit residual voltage 0.5V max.
Max. counting speed
10cps (signal width > 50mS)
200cps (signal width > 2.5mS)
Display
6.7mm LCD
Weight
Approx. 60g
Operating temperature
-10 ~ 40°C
Reset system
External reset and Manual reset
Reset signal
≥0.2S
Weight
35% ~ 85% RH
Connections
HC3JL Non-voltage input type
HC3JVH(L) Voltage input type
Dimensioned

Electro-Magnetic Counter - CSK
Technical Data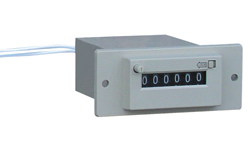 Y Type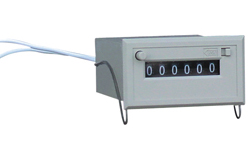 N Type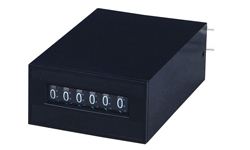 L Type
Models
CSK4-YKW/NKW/LKW, CSK5-YKW/NKW/LKW, CSK6-YKW/NKW/LKW
Voltages
AC110V, 220V
DC12V, 24V
Tolerance
Rated voltage -15% ~ 10%
Consumption
3VA
3.5W
Counting speed
10cps
20cps
Life
20, 000, 000times
Test
AC-1,500V (50/60Hz) 1 minute (Dielectrie)
Item No.
Dimensioned
A1
B1
C1
A2
C2
CSK4-YKW/NKW/LKW
60
50
36.5
40
35
CSK5-YKW/NKW/LKW
67
57
42
46
41
CSK6-YKW/NKW/LKW
72
63
47
51.5
46.5
Dimensioned