DC Mini Circuit Breaker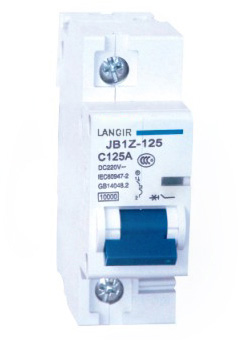 JB1Z-125 1P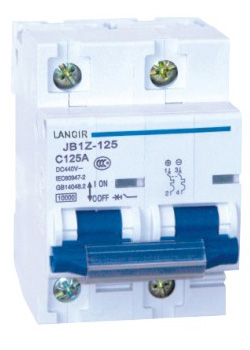 JB1Z-125 2P
JB1Z-125
Application:
JB1-125 MCB applicable to the exchange 50Hz, rated voltage 400V, rated current 125A and below Lighting distribution system or motor distribution system for short circuit or overload protection, aesthetic appearance of the product small, light weight and excellent reliability, high breaking capacity, rapid release, rail mounting, shell and parts and high flame resistance impact plastic, long life; but also in normal non-sensitive circuits frequently used conversion can be installed under-voltage release, shunt release and other accessories, also applies to the isolation and less as line voltage protection and use of remote disconnectd.
Standard: IEC60947-2, GB14048.2
Meaning and classification models
Characteristic
JB1Z-125 DC circuit breaker from the housing, the operating mechanism, heat release, electromagnetic release the contact system, arc system composed of overload and short circuit protection, unique design structure and a strong permanent magnet arc system to make the products 6KA short-circuit capacity, mechanical life of 20,000 times or more, the product looks beautiful.
Installation Guide for the 35x7.5 type standard steel track installed, and have the following characteristics; handle design front end of the top of the security operation feel strong, comfortable feel; wiring must pay attention to progress "+,-"; power under the meet the power into the line features, easy installation, saving by line.
Normal operation and mounting requirement
Circumstance temperature -5°C ~ +40°C, average temperature within 24h not exceeding +35°C.
Altitude above sea level less than 2000 m.
Humidity not exceeding 50% at 40°C and not exceeding 90% at 25°C.
Installation class II or III.
Pollution class 2.
Installation method DIN Rail mounting type.
The external magnetism shall not be more than 5 times of terrestrial one.
Product shall be installed at the place where there shall be no severe impact and vibration.
Product shall be vertically mounted onto standard Din rail 35mm.
Technical Data
Table 1
Pole
Width (x18mm)
Rated Voltage (V)
Rated Current In (A)
Max. short-circuit capacity
Trip Type
Breaking current Icu (A)
Time constant T (ms)
1
1
DC110V/ 220V
63, 80, 100, 125A
10000
10
C
2
2
DC220V/ 440V
Table 2
Test
Trip Type
DC Test Current
Origin State
Trip or not trip time limit
Results
Remark
a
C
1.05In
Cold
t ≥ 2h
Not trip
/
b
C
1.3In
Follow A test
t < 2h
Trip
Within the current steady increase in 5s
c
C
8In
Cold
t ≥ 0.2s
Not trip
Closed auxiliary switch power on
12In
t <0.2s
Trip
Overall and Mounting Dimensioned Chart