DC Molded Case Circuit Breaker

JM1Z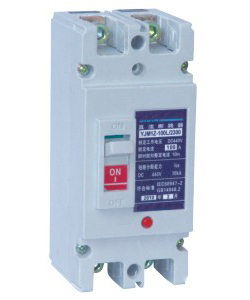 JM1Z 2P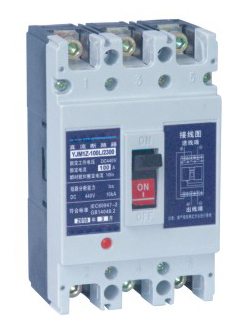 JM1Z 3P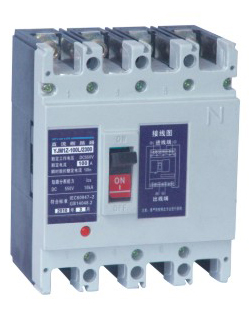 JM1Z 4P
Application
JM1Z Series DC MCCB adopt international advanced design, manufacturing technology and developed a new circuit breaker, the rated voltage DC550V and below, rated current up to 800A of circuit. Circuit breaker has a short circuit, overload protection, to protect lines and power equipment from damage.
Standard
IEC60947-1 GB14048.1
IEC60947-2 GB14048.2
IEC60947-4-2 GB14048.6
Meaning and classification models
Features
JM1Z series DC circuit breaker, interrupter technique patented by the international first CCV, or quad speed and narrow arc breaking free consumer technology, so that arcing distance shorter, higher breaking capacity.
Small size, short time delay circuit accurate, complete specification.
Standards are usually chosen according to circumstances, for battery power system differential with, you can simplify the calculation of short circuit current, no need to consider resistance, cable cross-sectional area, copper content, limiting factor, cable parameters such as thermal stability. Simply click on the lower circuit breaker rated current level of choice, can achieve all three sections of selective protection, the performance of international standards.
JM1Z Series DC Molded Case Circuit Breaker in the corrosion resistance, the use of the world's most advanced anti-corrosion surface treatment to increase hardness and soft-nitriding process plus gloss plating, corrosion performance of the product higher than nickel, used for high protection level.
Normal operation and mounting requirement
Circumstance temperature -5°C ~ +40°C, Derating above 40 °C can be used.
Altitude above sea level less than 2000 m.
Humidity not exceeding 50% at 40°C and not exceeding 90% at 25°C.
Installation class II or III.
Pollution class 2.
Installation method DIN Rail mounting type.
The external magnetism shall not be more than 5 times of terrestrial one.
Product shall be installed at the place where there shall be no severe impact and vibration.
Product shall be vertically mounted onto standard Din rail 35mm.
Technical Data
Type
Rate Current(A)
Rated Voltage(V)
Breaking Capacity(KA)
Pole
Arcing distance
JM1Z-100
10, 16, 20, 25, 32, 40, 50
63, 80, 100
DC250V
DC440V
DC550V
10KA/ 20KA
2
3
4
≤50
JM1Z-225
100, 125, 160, 180
200, 225
≤50
JM1Z-400
225, 250, 315, 350, 400
≤100
JM1Z-630
400, 500, 630
≤100
JM1Z-800
630, 700, 800
≤100
Dimensioned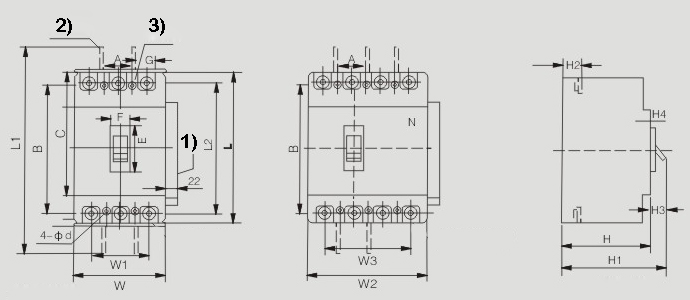 1) Undervoltage release
2) Separated arcs
3) Mounting plate
Type
Pole
Dimensioned
W
W1
L
L1
L2
H
H1
H2
H3
H4
C
D
E
F
G
W2
W3
JM1Z-100
2
64.5
30
150
185
132
68
86
24
7
4
88
35.5
50
22
17.5
3
92
60
150
185
132
86
104
24
7
4
88
35.5
50
22
17.5
4
92
60
150
185
132
86
104
24
7
4
88
35.5
50
22
17.5
122
90
JM1Z-225
2
74.5
35
165
215
144
86
110
24
5
4
102
31.5
50
22
17
3
107
70
165
215
144
103
127
24
5
4
102
31.5
50
22
17
4
165
215
144
103
127
24
5
4
102
31.5
50
22
17
142
105
JM1Z-400
2
150
96
257
357
224
105
155
38
8
6
128
64.5
89
65
Φ26
3
150
96
257
357
224
105
155
38
8
6
128
64.5
89
65
Φ26
4
270
370
234
110
160
43
8
6
134
70
89
65
Φ29
198
144
JM1Z-630
2
182
116
270
370
234
110
160
43
8
6
134
70
89
65
Φ29
3
182
116
270
370
234
110
160
43
8
6
134
70
89
65
Φ29
4
270
370
234
110
160
43
8
6
134
70
89
65
Φ29
240
174
JM1Z-800
2
210
140
280
280
243
106
145
33
30
128
3
210
140
280
280
243
106
145
33
30
128