Residual Current Circuit Breaker with Overcurrent Protection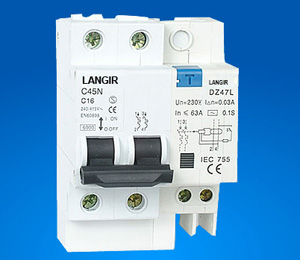 DZ47L-63E
DZ47L-63E
Application:
DZ47L-63E residual current circuit breaker simply fits onto the right hand side of any DZ47 miniature circuit breaker which forms DZ47LE to provide a high level of protection against earth leakage fauls in addition to the overload and over current protection by the MCB alone.
Standard: GB16916, IEC61008
Advantage
Our products have the guarantee period of 36 calendar months,that is a high quality and reliability;
Our products have an excellent ratio between price and quality ,you can possess them by competitive price and high quality;
The fast and flexible production form aim at the customer require;
The deliveries exactly in accordance with customer orders
The fast transportation.
Adopt electromagnetic style release , can play a leak electricity and electric shock protecting role while breaking in zero Line.
Construction Features:
Measuring component and buckling component of products is located between enter line end and entrance line end ;
Movement characteristic of products can not be changed with outside mechanical tool ;
The operating organization has the free function to take off and buckle;
Operate part can not be taken down from the shell outer of products , the shell can not influence the operating organization to work , the accessory group which replace the feelers pressure, should guarantee the feelers pressure does not change while running.
Normal operation and mounting requirement
Circumstance temperature -5°C ~ +40°C, average temperature within 24h not exceeding +35°C.
Altitude above sea level less than 2000 m.
Humidity not exceeding 50% at 40°C and not exceeding 90% at 25°C.
Installation class II or III.
Pollution class 2.
Installation method DIN Rail mounting type.
The external magnetism shall not be more than 5 times of terrestrial one.
Product shall be installed at the place where there shall be no severe impact and vibration.
Product shall be vertically mounted onto standard Din rail 35mm.
Technical Data
| | |
| --- | --- |
| Type | DZ47L-63E |
| Number of poles | 2P, 4P |
| Rated Current(In) | 25, 32, 40, 63A |
| Rated Voltage(Un) | AC 2P: 230/240V 4P: 400/415V |
| Residual operating current scope | 0.5I△n~I△n |
| Residual current off-time | ≤0.3s |
| Type | A, AC |
| Ultimate short-circuit breaking capacity (Inc) | 3000A |
| Endurance | ≥4000 |
| Terminal protection | IP20 |