Self-Adhesive Tie Mounts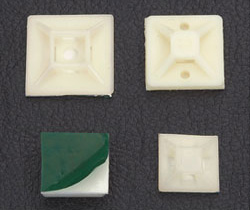 Material: Nylon 66, 94V-2 ,certificated by UL, the back attached sponge glue imported .
Usage: Peel the sponge glue and stick on the wall then, bundle the wire with cable ties.
Application: For bundling wires and other things save time and convenient used for the wall which can't be made a hole in.
Item No.
L x W
H
(mm)
T
(mm)
Screw Hole
(mm)
TM-20
20x20
6.1
5.0
2.9
TM-25
25x25
7.5
6.2
3.5
TM-30
30x30
8.7
6.4
4.5
TM-40
40x40
6.4
10.8
/
AAM-1
19x19
4.6
4.4
/
AAM-2
28x28
6.4
5.4
5.5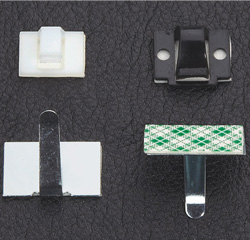 Nylon 66, (C-1;C-2). certificated by UL, high grade steel or stainless steel ; sponge double side sticker.
Usage: Remove the sticker protect paper, stick the clip on the wall, then put the wire through the clip.
Character: Convenient for use, it is especial suit for the no-holes of wall.
Item No.
L x W
Matrial
C-1
17x12
PA66
C-2
20x14
PA66
CB-3
20x10
stainless steel or Steel
CB-4
25x15
CB-5
30x20