AD22

Product Overview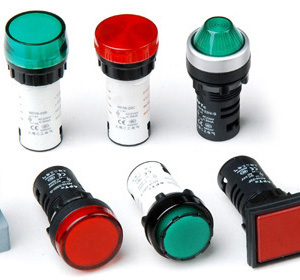 AD16, AD22 series pilot lamp only use LED lamp as the light source. The advantage have: long life, gentle weight, small, save energy. It is the advanced product of all kinds of the incandescence lamp and the neon lamp of the XD type.
The cover of the lamp is made of PC material, and have good shock resistance. It can be used as indication pilot light, accident signal and other signals in the circuits of such equipment as telecommunication.
Specifications
| | |
| --- | --- |
| Electrical Live | ≥30,000h |
| Permitted Voltage | ±20%(≥110V) |
| Dielectric Strength | 2.5kV(AC RMS),1min |
| Frequency | 50~60Hz |
| Rated Operating Current | ≥100cd/m2 |
| Comparative Tracking Index | CT1≥100,flame retardant |
| Insulation Resistance | Ui≤60V, 5MΩ; 60V<Ui≤660V, 50MΩ |
| Light Color | |
Diagramof Interior Connection
| | | | | |
| --- | --- | --- | --- | --- |
| Type | AC/DC Type Pilot Lamp | AC Type Pilot Lamp | AC/DC Type bi-color Lamp | AC Type bi-color Lamp |
| Normal | | | | |
| Anti-Interference | | | | |
Note:
AC/DC type pilot lamp is resistor step-down form; AC type pilot lamp is capacitor step-down form.
When voltage is 110V or above it,The temperature of outer shell of AC/DC type pilot lamp is higher than AC type pilot lamp.
Order Code

Attentions
The frequency of AC type pilot lamp is 50~60Hz. If work in other frequency ranges, it will be broken .
The common threshold value of anti-interference pilot lamp is below 40V; and if you need higher threshold value please tell us. We suggest that the threshold value shouldn't be too high. Please check the routing If the inter ference voltage is too high.
Connection error is not allowable to AC type dual-color light, otherwise pilot lamp will be broken.
Avoid using welding mode to connect lines as possible and you should using general plug (2.5×0.8mm) to connect and wear the protective sleeve. If you need to weld, please finish it in 3 seconds by the electric iron which is below 30W and don't exert external force on terminals .

22mm
Shape
Number
Color
Voltage
Dimension
Remarks

Short Type
AD22-BS/△/▲
AC/DC6V
AC/DC12V
AC/DC24V
AC/DC36V
AC/DC48V
AC/DC110V
AC/DC220V
AC/DC380V
AC110V
AC220V
AC380V
Screw Connection
Electric Shock Protection

Short Type
AD22-DS/△/▲
Screw Connection
Electric Shock Protection

Short Type
AD22-ES/△/▲
Screw Connection
Electric Shock Protection

Short Type
AD22-HS/△/▲
220V and 380V are the
special use for capacitor
frame to leak electric.
Screw Connection
Electric Shock Protection
AD22-B/△/▲/●/◎
Screw Connection
Electric Shock Protection
Anti-Interference available
AD22-D/△/▲/●/◎
Screw Connection
Electric Shock Protection
Anti-Interference available
AD22-E/△/▲/●
220V and 380V are the
special use for capacitor
frame to leak electric.
Screw Connection
Electric Shock Protection
Anti-Interference available
AD22-H/△/▲/●

Bi-Color
AD22-BI/△/▲/●
Screw Connection
Electric Shock Protection
Anti-Interference available