Y090, Y090E

Standard: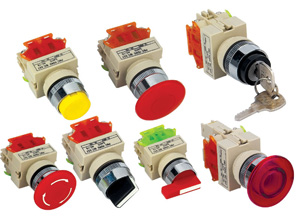 Y090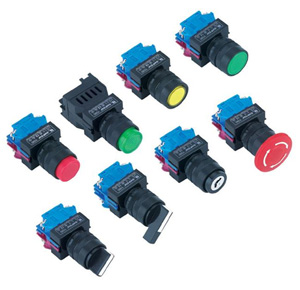 Y090 Economical type
EN 61058-1:2002, IEC60947-5-1, GB14048.5
Protection:
The standard is IP40 and some types can reach IP67 with the seal cover
Certificate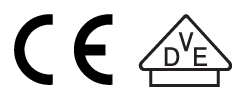 Switch Ratings
Type
Ui: 660V
Terminal
Ith: 10A
Current/ Voltage
24V
48V
110V
220V
380V
500V
Dielectric Strengh
10A
5A
2.2A
1.1A
Operation Temp.
10A
6A
4A
2A
Specifications
Operating Temperature
-25°C ~ +55°C(no freezing)
Operating Humidity
45 ~ 85%Rh(no condensation)
Contact Material
-silver
-silver alloy
-gold-clad silver, clading thickness is 3μm
Contact Resistance
≤50mΩ
Insulation Resistance
≥100MΩ
Dielectric Strength
3000V, AC50Hz
Vibration Resistance
50Hz,Amplitude 1.0mm p-p
Shock Resistance
≥10g
Life
Mechanical
Momentary type: 1 000 000 times.
Alternate type,selector type: 500 000times.
Key-lock type, emergency type: 200 000 times
Electrical
≥50,000 times
Terminal
Thread connection,diameter of welded wire:
2×1.5mm max Connecting link:6.3× 0.8mm
Operation
Operating Force: 800gf ~ 2200gf (according to the quantity of switch units)
Operating Travel:About 5.5mm (Pushbuttons)
Lamp Ratings
Lamp Ratings
AC LED Lamp
Cquivalent Circuit
AC/DC:
(Resistance step-down)

Illuminated Form
Lamp Type
Power Box Type
Rated Voltage
AC/DC 6V
AC/DC 12V
AC/DC 110V
AC/DC 220V
AC/DC 380V
AC/DC 24V
AC 110V
AC 220V
AC 380V
AC:
(Capacitor step-down)

Frequency: 50/60Hz
Rated Current
≤20mA
Lamp Life
Approx. 40, 000h
Cover Color
Note:
1. Normal configuration of Lamp: Using LED without power box if below 60V, and if above 60V we suggest you choose the power box. Other special voltage of lamp can be customized.
2. The lamp contains current-limiting resistor inside.
3. Illuminated pushbutton is AC / DC universal two-way LED lamp, DC one-way, special voltage, and bi-color can be customized.
Order Code

Note:Φ25 diameterand Φ30 diameter of this series product should be installed with diameter changing circleand please add 'Φ25' or 'Φ30' behind the part number.
Indicator
Shape
Type
Number
Dimension
Remarks

Domed Indicator
Head type:
Fast installation, Normal and Domed;
When voltage >60V or ≤60V,
the switch using power box type;
The illuminant: AC/DC LED lamp
Y090-BI/△/▲

Fast Installation Indicator
Y090-IF/△/▲/◎

Indicator
Y090-I/△/▲

Indicator
Illuminated & Non-illuminated optional
Shape
Type
Number
Dimension
Remarks

Fast Installation Flat Head
Momentary
Y090-□F/△/▲/◎

The black can't be used with lamp.
Protection: IP67 should be installed seal cover.
Latching
Y090-□ZF/△/▲/◎

Flat Head
Momentary
Y090-□/△/▲/◎
Latching
Y090-□Z/△/▲/◎

High Head
Momentary
Y090-□H/△/▲

The black can't be used with lamp.
Latching
Y090-□ZH/△/▲
Mushroom Type
Shape
Type
Number
Dimension
Remarks

Mushroom Pushbutton
Momentary
Y090-□M/△/▲
Latching
Y090-□ZM/△/▲

Emergency Pushbutton
Push-lock
Turn-reset
Y090-□E/△/▲

The dimension of head: Φ30mm, Φ40mm
Selector Type & Buzzer
Shape
Type
Number
Dimension
Remarks

Selector Switch

90° 2position maintain
Y090-□X/24/△/▲

The black can't be used with lamp.

90° 2 position return
Y090-□X/26/△/▲

45° 3 position maintain
Y090-□X/34/△/▲

45° 3 position half return
Y090-□X/35/△/▲

45° 3 position self return
Y090-□X/36/△/▲

Lever Switch

90° 2position maintain
Y090-□L/24/△

90° 2 position return
Y090-□L/26/△

45° 3 position maintain
Y090-□L/34/△

45° 3 position half return
Y090-□L/35/△

45° 3 position self return
Y090-□L/36/△

Key-lock Switch

90° 2position maintain
Y090-□K/24
The keys are supplied.
The key can be pull out
in both positions.

90° 2 position return
Y090-□K/26

45° 3 position maintain
Y090-□K/34

45° 3 position half return
Y090-□K/35

45° 3 position self return
Y090-□K/36

Mushroom Key-lock Switch

90° 2position maintain
Y090-□MK/24/△

The keys are supplied.

90° 2 position return
Y090-□MK/26/△

45° 3 position maintain
Y090-□MK/34/△

45° 3 position half return
Y090-□MK/35/△

45° 3 position self return
Y090-□MK/36/△

Buzzer
Buzzer
Y090-M/▲
Rated sound intensity: 75dB(1m)
Frequency: 2.3kHz±300Hz
Flicker
Y090-S/△/▲
Flicker Buzzer
Y090-SM/▲