SAK/JXB Series Combined Terminal Blocks

Outline: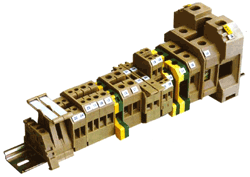 SAK/JXB series combined terminal blocks mainly use germany woodmeler's connection technology, and be designed and made at home. Technology targets conforms to the standard of IEC60947-7-1, IEC60947--7-1, GB14048.1. however, JXB is only for mounting on , increase the high current terminal series
Feature:
Reasonable installing design,strong versatility, SAK tpe can be mounted on the DIN Rail of G and OM35 type.
Small volume,full specificatipn,series JXB's big current terminal use reinforced accessories to install steel pressing-wire frame and wire diversion board technology in order to guarantee the the contact reliable .
The stand uses creamed-yellow and grey color, the connecting-ground pedestal uses yellow and green color with more modern sense.
Teachnical Data
Mark Stand
Universal Type
Universal Type
SAK-B JXB-B
SAK 2.5EN JXB2.5/35
SAK 4EN JXB 4/35
Rated voltage / Rated current
/ Rated section
0.5-2.5mm2
Current: 24A Voltage: 800V
0.2-4mm2
Current: 32A Voltage: 800V
End cover: Thick1.5mm
AP2.5
AP4
Center connection piece: 10 position. can be divided into 2, 3 or 4 position
2.5Q 2-10
4ENQ 2-10
Universal End Fixed Piece
EW35
EW35
Universal Type
Universal Type
Universal Type
SAK 6EN JXB6/35
SAK 10EN JXB10/35
SAK 16EN JXB16/35
0.2-6mm2
Current: 41A Voltage: 800V
0.2-10mm2
Current: 57A Voltage: 800V
0.5-16mm2
Current: 76A Voltage: 800V
AP6
AP10
AP16
6ENQ2-10
10ENQ2-10
16ENQ2-10
EW35
EW35
EW35
Universal Type
Universal Type
Double Level Type
SAK 35EN JXB2.35
SAK 70EN JXB70/35
DK 4Q/35 JXB-4/35S1
10-35mm2
Current: 125A Vltage: 800V
25-70mm2
Current: 192A Voltage: 800V
0.2-4mm2
Current: 32A Voltage: 50V
AP35
AP70/35
AP-DK4
35Q2-10
2.5Q2-10
DK4Q2-10
EW35
EW35
EW35
Double Level Type
Fuse Type
Test Type
DK4QV/35
JXB-4/35SZ1
SAK RD
LTU4-RD(JXB RD)
SAK WL 6/1S
JXB-WL6/1
0.2-4mm2
Current: 32A Voltage: 500V
0.2-4mm2
Current: 6.3A Voltage: 500V
0.2-4mm2
Current: 41A Voltage: 400V
AP-DK4
AP1.5
WAP-WTL4
AP-DK4 2-10
WTL2-10
EW35
EW35
EW35
SAK Series Terminal Accessories
EW-35
Earth Terminal Block Thickness 8.00mm
AP2.5
AP4/10
AP16
AP35
Center connection
Number LTU4-BP1
Center connection 2P, 3P
Universal Terminal Blocks
| | | |
| --- | --- | --- |
| | | |
| EK2.5/35 0.2-2.5mm2 | EK4/35 0.2-4mm2 | EK6/35 0.2-6mm2 |
| | | |
| EK10/35 0.5-10mm2 | EK16/35 0.5-16mm2 | |