H.V. & L.V. Fuse Link & Base
Bolt Connected Round Cartridge Type Fast-acting Fuse Links For Semiconductor Protection

Applications
This series of fuses are mainly used in circuits of AC 50Hz, rated voltage of 1500V and rated current of 1000A, to protect the semiconductor components and the whole unit from short-circuit.
The breaking capacity of the fuses is up to 100KA.
The fuses are compliant with the IEC269-1/IEC269-4 and GB13539.1/GB13539.4.
Design Features
The variable cross-section fuse elements made of pure silver sheets are sealed in the melting tube made of epoxy glass fibre which is heat resistant. The fuse tube is filled with chemically-treated high-purity quarts as arc-extinguishing medium. The two ends of the melting body are connected to the (knife) contacts by dot welding.
Table 1
Types
Rated voltage(V)
Rate current(A)
Dimension/ Size (mm)
Weight (g)
Fig.
A
B
C
ΦD
E
F
Φd
RS94A
500
40 ~ 200
Figure 1
70
52
32
28
22
5
8.2 x 12
98
RS94C
500
40 ~ 200
Figure 1
80
62
42
28
22
5
8.2 x 12
106
RS94D
250
30 ~ 200
Figure 1
80
57
26
29
22
5
8.2 x 12
120
RS94E
500
30 ~ 200
Figure 1
80
60
42
31
24
5
8.2 x 12
142
RS94F
500
40 ~ 200
Figure 1
80
58
38
33
25
5
8.2 x 12
135
RS94G
500
40 ~ 400
Figure 1
88
62
42
36
26
5
10.2 x 15
202.5
RS94H
250
30 ~ 150
Figure 1
70
53
27
22
16
5
8.2 x 12
82
RS94J
250
40 ~ 250
Figure 1
67
51
26
26
19
3.5
8.2 x 12
102
RS95A
500/660
50 ~ 250
Figure 1
91
72
54
28
22
5
8.2 x 12
112.5
RS95B
500/660
50 ~ 300
Figure 1
92
73
54
31
25
5
8.2 x 12
150
RS95C
500/660
50 ~ 200
Figure 1
92
73
54
26
19
5
8.2 x 12
114
RS95D
500/660
100 ~ 200
Figure 1
92
72
45
30
25
5
8.2 x 12
149
RS95E
500/660
40 ~ 350
Figure 1
92
72
54
31
25
6
8.2 x 12
155
RS95F
500/660
50 ~ 250
Figure 1
93
75
54
26
19
5
8.2 x 12
145
RS95FS
500
100
Figure 1
100
82
48
26
19
3
8.2 x 12
124
RS95G
500/660
50 ~ 300
Figure 1
93
75
53
31
25
5
8.2 x 12
128
RS95H
500
200 ~ 400
Figure 1
96
70
42
36
26
5
10.2 x 15
193
RS95K
500
250 ~ 400
Figure 1
98
70
38
47
32
5
10.2 x 15
320
RS95L
700
100 ~ 300
Figure 1
127
108
89
31
25
5
8.2 x 12
195
RS95M
500
50 ~ 200
Figure 1
110
81
50
31
25
5
8.2 x 10
165
RS95N
700
50 ~ 200
Figure 1
128
101
75
25
20
6
10.5 x 15
172
RS95P
250
250 ~ 400
Figure 1
98
68
41
38
25
6
10.5 x 18
218
RS95Q
500
50 ~ 200
Figure 1
110
95
75
25
18
5
6.2 x 10
148
RS95R
700
35 ~ 100
Figure 1
110
84
50
31
25
6
8.2 x 18
160
RS95S
250
160 ~ 300
Figure 1
100
65
30
36
30
6
10.5 x 15
188
RS95T
500/660
100 ~ 250
Figure 1
112
87
52
27
21
5
10 x 18
210
RS95U
500
100
Figure 1
100
82
48
26
19
5
8.2 x 12
148
RS95V
600
100 ~ 200
Figure 1
128
98
60
25
19
3
10.2 x 15
262
RS95W
500
40 ~ 200
Figure 1
129
96
53
34
24
6
12 x 20
183
RS96A
500
200 ~ 300
Figure 1
100
70
40
40
26
6
10.5 x 18
230
RS96B
500/660
200 ~ 400
Figure 1
110
83
53
38
26
6
8.2 x 12
240.5
RS96C
500/660
100 ~ 200
Figure 1
112
90
70
25
20
6
10.5 x 15
125
RS96D
500/660
75 ~ 200
Figure 1
112
90
60
36
26
5
10.5 x 15
241
RS96E
500/660
200 ~ 300
Figure 1
112
93
73
31
25
5
7 x 9.5
166
RS96F
500/660
200 ~ 400
Figure 1
113
87
70
40
26
6
10.5 x 15
255
RS96G
500/660
400 ~ 500
Figure 1
114
87
56
51
38
6
10.5 x 15
437
RS96GK
500
400 ~ 500
Figure 1
97
67
38
51
36
8
11 x 17
198
RS96H
500/660
300
Figure 1
117
92
67
28
22
3
7 x 9.5
132
RS96K
500/660
200 ~ 400
Figure 1
117
80
52
40
32
6
10.5 x 15
280
RS96L
500/660
200 ~ 400
Figure 1
117
89
57
37
30
6
10.5 x 15
280
RS96M
500
50 ~ 200
Figure 1
135
113
67
34
20
5
8.2 x 12
196
RS96N
500
250 ~ 400
Figure 1
115
87
58
39
26
6
10.5 x 18
245
RS96P
700
125 ~ 200
Figure 1
130
80
50
38
25
6.3
10.5 x 26
250
RS96Q
250
315 ~ 400
Figure 1
100
71
38
43
35
9
10.5 x 15
195
RS96R
500/660
35 ~ 300
Figure 1
113
83
53
40
30
6.5
12.2 x 18
197
RS96S
50/660
40 ~ 250
Figure 1
95
68
40
27
20
5
9 x 18
153
RS97A
500/660
300 ~ 500
Figure 1
120
90
58
46
32
6
10.5 x 18
450
RS97B
500/660
50 ~ 200
Figure 1
126
100
74
38
26
6
10.5 x 18
295
RS97C
500/660
350 ~ 500
Figure 1
128
98
70
51
38
6
10.5 x 18
460
RS97D
500/660
200 ~ 400
Figure 1
130
98
72
38
26
6
10.5 x 18
288
RS97E
500/660
200 ~ 350
Figure 1
145
111
77
38
29
5
7 x 11
300
RS97F
500/660
200 ~ 400
Figure 1
145
105
76
41
28
8
10.5 x 18
355
RS97G
500/660
200 ~ 400
Figure 1
146
110
76
41
29
5
7 x 9.5
341
RS97H
500/660
200 ~ 400
Figure 1
146
110
75
48
36
8
12.5 x 18
520
RS97K
500/660
200 ~ 400
Figure 1
130
100
70
53
42
8
14.2 x 18
480
RS97L
500
200 ~ 400
Figure 1
125
103
48
51
38
6
10.5 x 18
420
RS97M
500
400 ~ 500
Figure 1
145
102
53
51
38
6.3
14.5 x 30
465
RS97N
500/660
200 ~ 400
Figure 1
145
113
88
38
25
6..3
10.5 x 18
353
RS98A
500/660
600
Figure 1
165
114
56
64
50
8
10.5 x 18
635
RS98B
500/660
600
Figure 1
170
130
80
70
50
6
10.5 x 18
1280
RS98C
500/660
500
Figure 1
181
133
86
51
40
10
10.5 x 15
720
RS98D
500/660
600
Figure 1
180
131
85
64
50
10
14.2 x 18
970
RS98E
700
250 ~ 400
Figure 1
130
90
50
51
38
6.3
14.2 x 28
450
RS98F
700
300 ~ 400
Figure 1
181
130
72
64
50
10
14.2 x 28
780
RS98G
700
400 ~ 600
Figure 1
175
135
73
63
51
10
12.5 x 18
1135
RS98H
700
400 ~ 500
Figure 1
166
118
70
50
38
6
16.2 x 22
583
RS98K
700
500 ~ 600
Figure 1
181
114
50
64
51
9.5
14.2 x 45
996
RS98L
700
500 ~ 800
Figure 1
167
137
72
70
50
8
10.5 x 18
1100
RS98M
700
500 ~ 600
Figure 1
160
108
53
63
50
9
14.2 x 23
925
RS98N
700
500 ~ 600
Figure 1
180
125
73
60
46
13
14.2 x 25
1050
RS98P
500
400 ~ 500
Figure 1
110
80
53
50
40
6
10.5 x 18
410
RS99A
500/660
500 ~ 600
Figure 1
190
140
90
65
50
10
14.2 x 18
1058
RS99B
500/660
400 ~ 600
Figure 1
203
152
95
64
50
10
10.5 x 18
1410
RS99C
500/660
400 ~ 600
Figure 1
217
157
101
60
50
12
16.2 x 28
1420
RS99D
500
800 ~ 1000
Figure 1
180
127
85
76
61
11.3
16.2 x 22
1786
RS99E
700
800 ~ 1250
Figure 1
200
150
100
90
70
13
20.5 x 30
1920
RS99F
700
400 ~ 600
Figure 1
180
129
72
64
51
9.5
13.5 x 18
1200
RS99G
700
800 ~ 1000
Figure 1
195
150
95
75
61
10
13 x 18
1830
RS99H
500
500 ~ 600
Figure 1
145
130
46
52
38
8
15 x 29
560
RS99J
500
400 ~ 600
Figure 1
175
123
70
65
50
10
14.2 x 30
962
RS99K
500
400 ~ 600
Figure 1
181
133
72
64
51
10
13 x 33
1023
RS99L
500
400 ~ 600
Figure 1
175
125
71
65
50
10
14.2 x 33
1010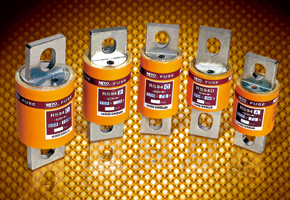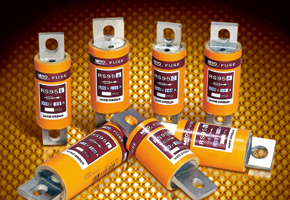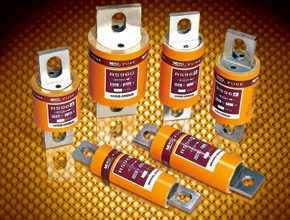 Table 2
Types
Rated voltage(V)
Rate current(A)
Dimension/ Size (mm)
Weight (g)
Fig.
RS94B
500
40 ~ 100
Figure 2
55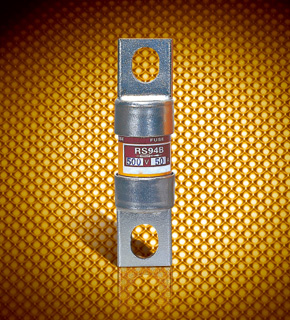 Table 3
Types
Rated voltage(V)
Rate current(A)
Dimension/ Size (mm)
Weight (g)
Fig.
RS99AP
700
1000
Figure 3
2100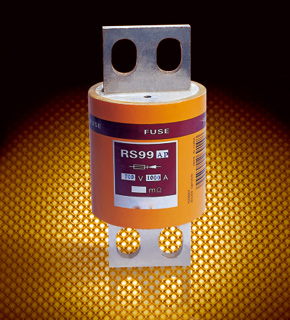 Table 4
Types
Rated voltage(V)
Rate current(A)
Dimension/ Size (mm)
Weight (g)
Fig.
RS99LK
1500
1200
Figure 4
996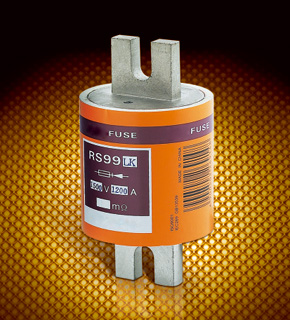 Table 5
Types
Rated voltage(V)
Rate current(A)
Dimension/ Size (mm)
Weight (g)
Fig.
RS97ML
1200
180
Figure 5
1127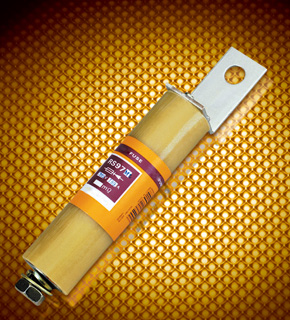 Table 6
Types
Rated voltage(V)
Rate current(A)
Dimension/ Size (mm)
Weight (g)
Fig.
RS99PX
500
1000
Figure 6
1652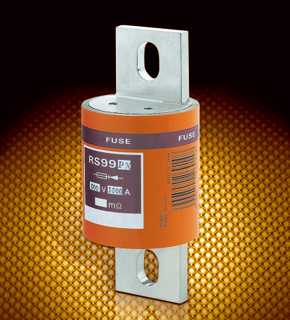 Characteristics Curve
Time-current characteristics curve of (fast) fuse linksfor semiconductor protection
Breaking current characteristics curve of (fast) fuselinks for semiconductor protection