H.V. & L.V. Fuse Link & Base
Cylindrical Fuse Links

Applications
Protection against overload and short circuit in electric lines (type gG), also available for protection of semiconductor parts and equipment's against short-circuit (type aR) and protection of motors(type aM).
Rated voltage up to 660V; Rated current up to 125A; Working frequency 50Hz AC; Rated breaking capacity up to 100KA.Compliant with GB13539 and IEC269.
Design Features
Variable cross-section fuse element made from pure metal sealed in cartridge made from high-duty ceramic or epoxy glass. Fuse tube filled with chemically treated high-purity quartz sand as arc-extinguishing medium. Dot-welding of fuse element ends to the caps ensures reliable electric connection; Striker may be attached to the fuse link to provide immediate activation of micro-switch to give various signals or cut the circuit automatically.
Special fuse as per Figure 2~4 can be supplied according to customers' requirements.
Table 1
Types
Rated voltage(V)
Rate current(A)
Dimension(mm)
Weight(g)
Ours
Cross-reference
General (gG)
Fast(aR)
General (gG)
Fast(aR)
Fig.
ΦD x L
RO06
RS06
--
--
250/380
1~32
Figure 1
Φ12.7 x 29
6.5
RO07
RS07
--
--
600
10~100
Figure 1
Φ30 x 57
75
RO09
RS09
--
--
500
2~63
Figure 1
Φ18 x 37
17.4
RO10
RS10
--
--
500
2~63
Figure 1
Φ18 x 50
23.5
RO11
RS11
AJT JKS LPJ
ACL
600
2~32
Figure 1
Φ21 x 58
51.5
RO12
RS12
AJT JKS LPJ
ACL
600
35~100
Figure 1
Φ27 x 60
90
RO13
RS13
--
--
500
2~40
Figure 1
Φ15 x 50
23.2
RO14
RS14
RT19-16 gF1
--
500
0.5~20
Figure 1
Φ8.5 x 31.5
4.4
RO14A
RS14A
--
--
250
0.5~20
Figure 1
Φ8.5 x 23
3.5
RO14B
RS14B
--
--
380/500
0.5~20
Figure 1
Φ8.5 x 36
5.0
RO15
RS15
RT14-20 gF2 RT18-32 RT19-25
KTK KLM
380/500
0.5~32
Figure 1
Φ10.3 x 38
7.7
RO15A
RS15A
--
--
250
0.5~16
Figure 1
Φ10.3 x 25.8
4.8
RO15B
RS15B
--
--
250/500
0.5~25
Figure 1
Φ10.3 x 31.5
5.8
RO15C
RS15C
--
--
380/500
0.5~32
Figure 1
Φ10.3 x 34
6.2
RO15D
RS15D
--
--
600
2~32
Figure 1
Φ10.3 x 57
11
RO16
RS16
RT14-32 gF3 RT18-63 RT19-40
EWP
380/660
2~50
Figure 1
Φ14.3 x 51
20.5
RO16A
RS16A
--
500
2~50
Figure 1
Φ14.3 x 38
15.6
RO16B
RS16B
--
--
500
2~50
Figure 1
Φ14.3 x 45
18.5
RO16C
RS16C
--
--
500
2~50
Figure 1
Φ14.3 x 67
27.5
RO17
RS17
RT14-63 gF4 RT18-125 RT19-100
--
380/660
10~125
Figure 1
Φ22.2 x 58
58
RO18
RS18
--
URE2263
380
0.5~25
Figure 1
Φ9.6 x 30
4.8
RO19
RS19
FRS TRS FLSR
--
600
0.5~32
Figure 1
Φ20.5 x 127
91.2
RO19A
RS19A
RLNR PC2
--
250/500
0.5~63
Figure 1
Φ20.5 x 76
63
RO19B
RS19B
FRS TRS FLSR
--
600
0.5~32
Figure 1
Φ20.5 x 114
85
RO19C
RS19C
--
--
600
32~63
Figure 1
Φ27 x 139
172.4
RO19D
RS19D
--
--
600
32~63
Figure 1
Φ27 x 147
160
RO54
RS54
--
--
250
0.5~16
Figure 1
Φ5 x 20
1
RO55
RS55
--
--
250
0.5~16
Figure 1
Φ5 x 25
1.3
RO56
RS56
--
--
250
0.5~16
Figure 1
Φ6 x 20
1.7
RO57
RS57
--
--
250
0.5~16
Figure 1
Φ6.3 x 25
2.1
RO58
RS58
--
--
250/500
0.5~16
Figure 1
Φ6.3 x 31.5
2.5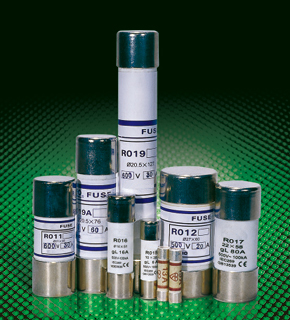 Table 2
Types
Rated voltage(V)
Rate current(A)
Dimension(mm)
Weight(g)
Ours
Cross-reference
General (gG)
Fast(aR)
General (gG)
Fast(aR)
Fig.
ΦD x L
RO08
RS08
--
JJS
600
2~63
Figure 2
Φ20.5x40
40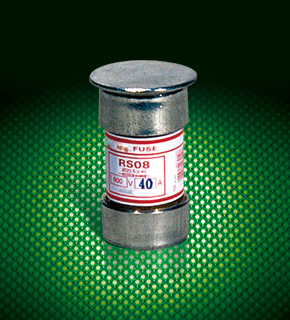 Table 3
Types
Rated voltage(V)
Rate current(A)
Dimension(mm)
Weight(g)
Ours
Cross-reference
General (gG)
Fast(aR)
General (gG)
Fast(aR)
Fig.
ΦD x L
RO15T
RS15T
ATQR
KTK KLKR
380/600
0.5~32
Figure 3
Φ10.3x38
7.5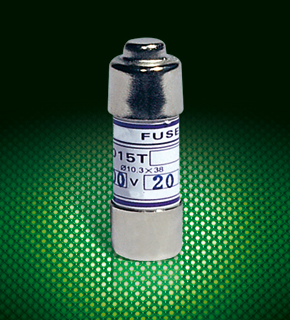 Table 4
Types
Rated voltage(V)
Rate current(A)
Dimension(mm)
Weight(g)
Ours
Cross-reference
General (gG)
Fast(aR)
General (gG)
Fast(aR)
Fig.
ΦD x L
RO16H
RS16H
FRH-R
--
250
2~50
Figure 4
Φ14.3 x 51
25
RO17H
RS17H
--
--
380/500
10~125
Figure 4
Φ22.2 x 58
52
RO19H
RS19H
FRS-R
--
600
0.5~63
Figure 4
Φ20.5 x 127
82
RO19AH
RS19AH
FLNR
--
600
0.5~63
Figure 4
Φ20.5 x 76
60
RO19BH
RS19BH
--
--
600
0.5~63
Figure 4
Φ20.5 x 114
72
RO19CH
RS19CH
FRS-R
--
600
32~63
Figure 4
Φ27 x 139
148
RO19DH
RS19DH
--
-
600
32~63
Figure 4
Φ27 x 147
172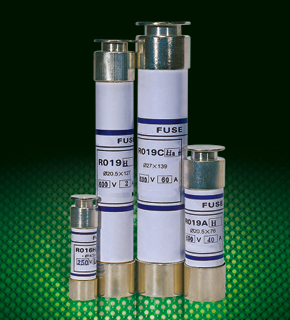 Characteristics Curve
Time-current rang of "gG" fuse links
Time-current rang of "gG" fuse links
Time-current rang of "gG" fuse links
Breaking current characteristics curve of"gG" fuse links
Time-current rang of "gG" fuse links
Time-current rang of "gG" fuse links
Breaking current characteristics curve of "gG" fuse links