H.V. & L.V. Fuse Link & Base
Screw Base Type Fuse Links

Applications
Protection against overload and short-circuit in electric lines(type gG), also available for protection of semiconductor parts and equipment's against short-circuit (type aR) and protection of motors(type aM).
Rated voltage up to 1140V; Rated current up to 630A; Working frequency 50Hz AC; Rated breaking capacity up to 50KA. Compliant with GB13539 and IEC269.
Design Features
Variable cross-section fuse element made from pure metal sealed in cartridge made from high-duty ceramic. Fuse tube filled with chemically treated high-purity quartz sand as arc-extinguishing medium. Indicator springs out when fuse cuts to give caution.
Table 1
Types
Size
Rated voltage(V)
Rate current(A)
Dimension(mm)
Weight(g)
Ours
Cross-reference
General (gG)
Fast(aR)
General (gG)
Fast(aR)
Fig.
ΦA
ΦC
ΦD
L
RO21
RS21
5SB E27
RL6-25
5SD
DII
500
2 ~ 6
Figure 1
6
22
13
50
24.8
8 ~ 10
Figure 1
8
22
13
50
13
Figure 1
8
22
15
50
16
Figure 1
10
22
15
50
20
Figure 1
12
22
15
50
25
Figure 1
14
22
15
50
RO22
RS22
5SB E33
RL6-63
5SD
DIII
500
30 ~ 40
Figure 1
16
27
20
50
48.1
50
Figure 1
18
27
20
50
63
Figure 1
20
27
20
50
RO23
RS23
--
--
DIII
500
2 ~ 6
Figure 1
6
27
20
70
64
8 ~ 10
Figure 1
8
27
20
70
16
Figure 1
10
27
20
70
20
Figure 1
12
27
20
70
25
Figure 1
14
27
20
70
35
Figure 1
15
27
20
70
50
Figure 1
18
27
20
70
63
Figure 1
20
27
20
70
RO24
RS34
E16
5SA
--
--
500
2 ~ 6
Figure 1
6
12.5
11.3
50
11.7
10
Figure 1
8
12.5
11.3
50
16
Figure 1
10
12.5
11.3
50
20 ~ 25
Figure 1
12
12.5
11.3
50
RO27
RS27
BLA
BLC
--
600
3 ~ 10
Figure 1
8
12.5
11.5
50
13.1
RO28
RS28
BLA
BLC
--
600
15 ~ 20
Figure 1
10
12.5
11.5
50
14.5
RO29
RS29
BLA
BLC
--
600
25 ~ 40
Figure 1
14
12.5
11.5
50
16.4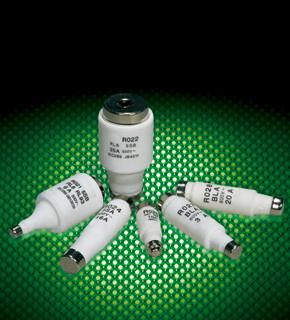 Table 2
Types
Size
Rated voltage(V)
Rate current(A)
Dimension(mm)
Weight(g)
Ours
Cross-reference
General (gG)
Fast(aR)
General (gG)
Fast(aR)
Fig.
ΦA
ΦB
ΦC
ΦD
L
RO26
RS26
E14, RL8, 5SE, E18
-
D01
380
2 ~ 6
Figure 2
5
7.3
10.6
10
36
12.7
10
Figure 2
5
8.5
10.6
10
36
16
Figure 2
5
9.7
10.6
10
36
D02
20
Figure 2
8.5
11
15
14
36
13.8
25
Figure 2
8.5
12
15
14
36
35
Figure 2
8.5
13.3
15
14
36
50
Figure 2
8.5
14.5
15
14
36
63
Figure 2
8.5
16
15
14
36
D03
80
Figure 2
17
22
22
21
43
15.6
100
Figure 2
17
25
22
21
43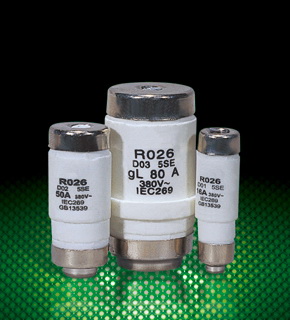 Table 3
Types
Size
Rated voltage(V)
Rate current(A)
Dimension(mm)
Weight(g)
Ours
Cross-reference
General (gG)
Fast(aR)
General (gG)
Fast(aR)
Fig.
ΦA
ΦB
ΦC
L
RL1-15
RLS1-15
--
--
--
380
2 ~ 15
Figure 3
13
16.5
13
32
13
RL1-60
RLS1-60
--
--
--
380
20~60
Figure 3
19
26.5
19
49
50.7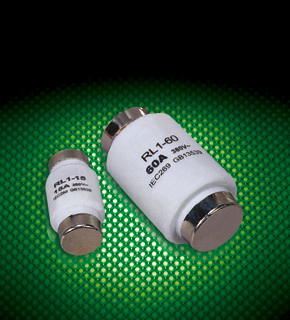 Table 4
Types
Size
Rated voltage(V)
Rate current(A)
Dimension(mm)
Weight(g)
Ours
Cross-reference
General (gG)
Fast(aR)
General (gG)
Fast(aR)
Fig.
ΦA
ΦB
ΦC
ΦD
L
RL1-100
RLS1-100
--
--
--
380
50 ~ 100
Figure 4
6.5
27.5
32.5
27.5
60
92.8
RO201
RS201
5SB BLA
RL6-100
--
DIV
600
80
Figure 4
5
--
33.5
28.5
63
112.2
--
100
Figure 4
7
--
33.5
28.5
63
115
RO202
RS202
5SB BLA
--
DV
600
150 ~ 350
Figure 4
8
--
45
38
63
200.5
RO203
RS203
5SB BLA
--
--
600
400 ~ 630
Figure 4
10
--
60
50
63
320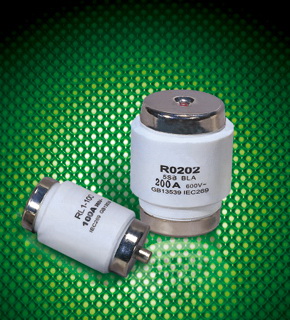 Table 5
Types
Size
Rated voltage(V)
Rate current(A)
Dimension(mm)
Weight(g)
Ours
Cross-reference
General (gG)
Fast(aR)
General (gG)
Fast(aR)
Fig.
RL1-200
RLS1-200
--
--
--
380
160 ~ 200
Figure 5
204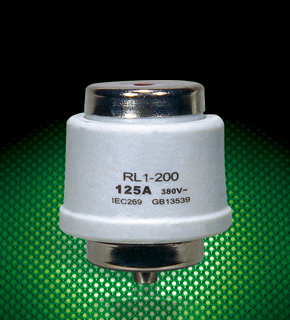 Table 6
Types
Size
Rated voltage(V)
Rate current(A)
Dimension(mm)
Weight(g)
Ours
Cross-reference
General (gG)
Fast(aR)
General (gG)
Fast(aR)
Fig.
RO25
RS25
--
--
--
500
2 ~ 25
Figure 6
31.2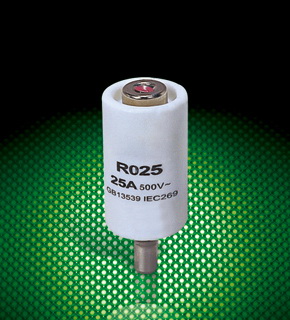 Table 7
Types
Size
Rated voltage(V)
Rate current(A)
Dimension(mm)
Weight(g)
Ours
Cross-reference
General (gG)
Fast(aR)
General (gG)
Fast(aR)
Fig.
RL5-40
--
--
--
--
1140
2 ~ 40
Figure 7
22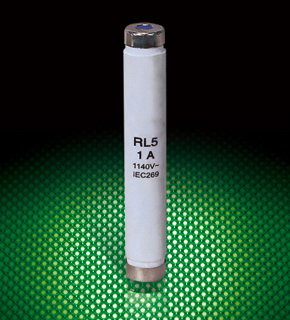 Characteristics Curve
Time-current rang of "gG" fuse links
Time-current rang of "gG" fuse links
Breaking current characteristics curve of "gG" fuse links